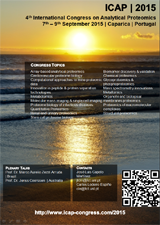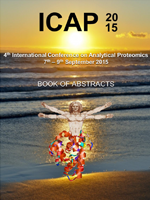 Please note that Exhibition Housing Services, Exhibition Housing Management and Trade Show Housing do not represent the PROTEOMASS Scientific Society nor BIOSCOPE group, nor have PROTEOMASS Scientific Society or BIOSCOPE Group authorized them to use their names or trademarks on information they send out to participants.
Registration at the conference Venue (ALDEIA DOS CAPUCHOS GOLF & SPA) must be done directly with the hotel:
Booking:
Mrs. Pereira, Isabel
For more information about Venue Registration please refers to the conference web site or contact:
On behalf of the organizing committee, we are delighted to welcome you to Caparica (Lisbon, Portugal), for the 4th International Congress on Analytical Proteomics (IV ICAP 2015).
The Congress will take place in Costa de Caparica the 7th, 8th and 9th September 2015.
We cordially encourage you to attend and contribute to one of the major events in 2015 on the Proteomics field.
We are confident that you will appreciate the breadth and quality of the scientific program and the city of Caparica, and look forward to seeing you in 2015 in Portugal.
We have some of the best names in the arena:
Simona Francese, PhD

Sheffield Hallam University, Sheffield, UK

Kay Ohlendieck, PhD

Maynooth University, Ireland

Wolfgang Maret, PhD

King's College London, Metal Metabolism Group Division of Diabetes and Nutritional Sciences, London, UK

Jens Coorssen, PhD

University of Western Sydney, Australia

Marco Zezzi Arruda, PhD

Universidade de Campinas, Campinas, Brasil
On belhalf of the scientific and organizing committees,
Carlos Lodeiro-Espiño
José-Luis Capelo-Martinez
Symposium Subjects:
Array-based analytical proteomics
Cardiovascular proteome biology
Computational approaches to mine proteomic data
Innovation in peptide & protein separation technologies
Metabolomics
Molecular mass imaging & single cell imaging
Proteome biology of infectious diseases
Quantitative Proteomics
Renal and urinary proteomics
Stem cell proteome biology
Biomarker discovery & validation
Chemical proteomics
Glycoproteomics & phosphoproteomics
Mass spectrometry innovations
Metallomics
Organelle and biological membranes proteomics
Proteomics of macromolecular complexes
Structural proteomics